Riley
He is becoming a monster. A wonderful one. He has so much energy.
Loves everyone he meets. We are so blessed.  Hes such a joy - and honestly you've
spoiled the 'puppy' experience for Ray. Its is NEVER this easy.
What puppy doesn't have accidents? This one. What puppy is so kind? This one. So blessed.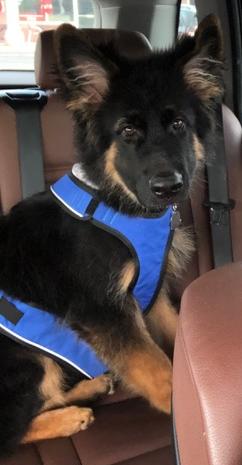 Cooper

Cooper is doing great! Yesterday's vet appt at 18 weeks and she said he was looking
and doing fantastic. He weighed in at 57.4 lbs. He is such a love. Take care.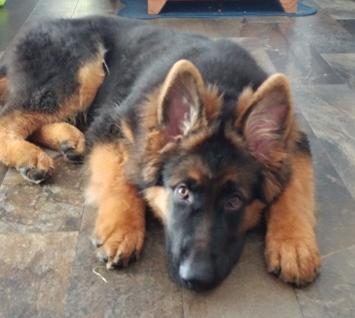 Koko
I just wanted to say thank you again, little koko has been just a dream to have. She is adapting here
really well and loves to play outside! She was also such a good girl on our 6 hour drive back, no messes
and she let us know when we needed to stop so it was great!
I will keep you updated as she grows up and send all kinds of pictures your way!
She has brought so much happiness to our lives already, thank you for such a wonderful pup!
Koko is doing wonderful, she's stunning! Summer has been a blast with her.
We found out she loves the water, she wants to dunk her head in the water
bowl and splash around any chance she can get!
We filled up a kiddy pool for her where she can run and splash around.
Koko is now house trained and she is super smart so training has been easy and fun.
Her vet appointments have been perfect, they all have fallen in love with her.
Anyone that meets her falls in love with her. She is the smartest, kindest little pup and I am so grateful to have her.

Koko has been my little shadow and where I go she goes! she even helps bring the hose over to the garden!
I just wanted to say Thank you again, she has been just a dream to have in my life.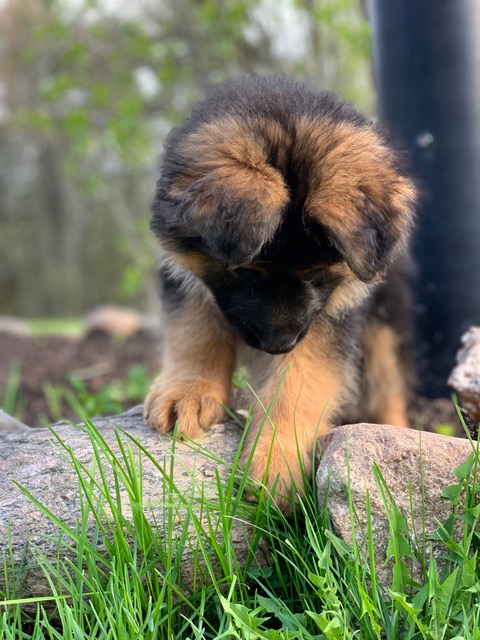 Guinness
Guinness is doing wonderful, and continues to amaze me with how smart he is daily.
Every aspect of training has gone very smoothly thus far, and he has been the perfect bundle of joy.
I can't thank you enough for how great you made the entire process, we definitely learned a lot from you.
Everyone that meets him says how gorgeous he is.

Anyways, thanks again for everything and I'll send you pictures periodically as he grows.
Here are some from the past couple weeks. Take care.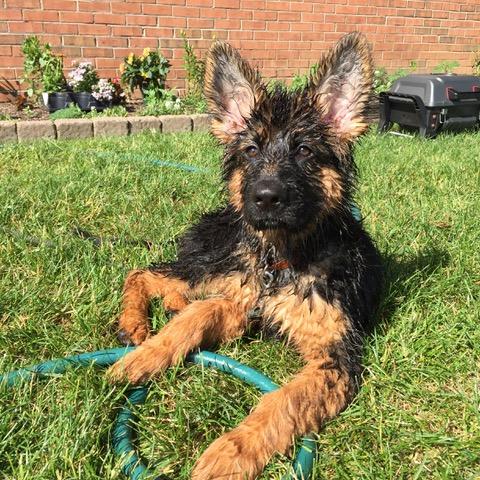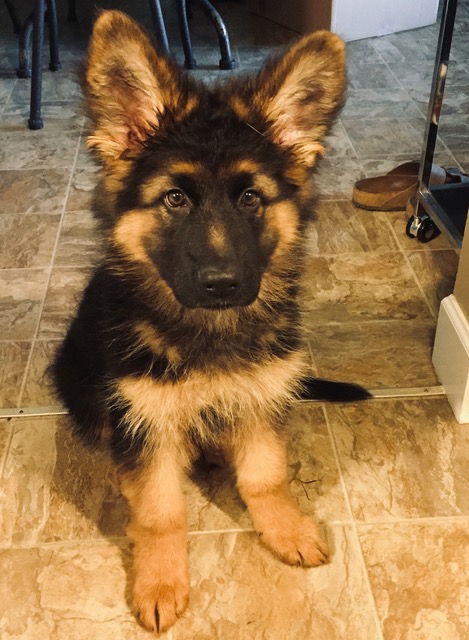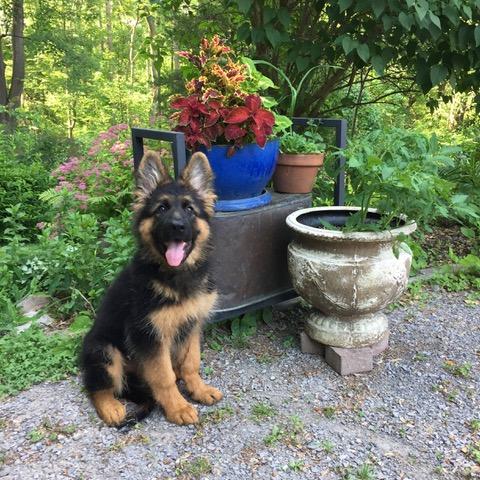 Millie
We are so in love with our Mildred Louise! We call her Millie Lou and she is such a good,
smart girl! She's up to almost 40 pounds now and is completely house trained. She enjoys
riding in the car and loves to meet new people and other animals.
Her ears aren't quite up yet but they're getting there. I've been sharing your website
with everyone that has asked about her. It's hard to get a good picture because she's never still!
We will keep you updated with pictures when we can.
Thanks again for such an amazing puppy!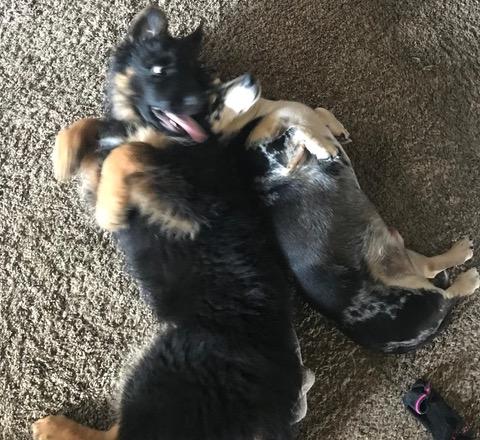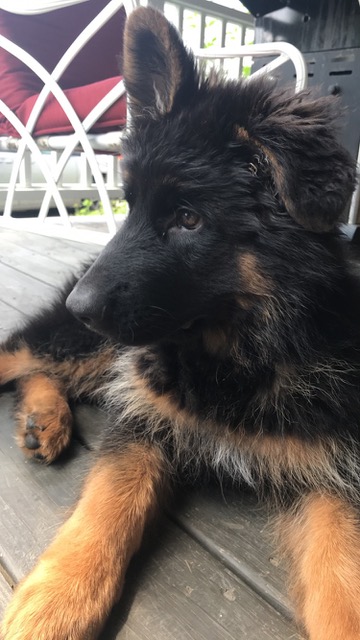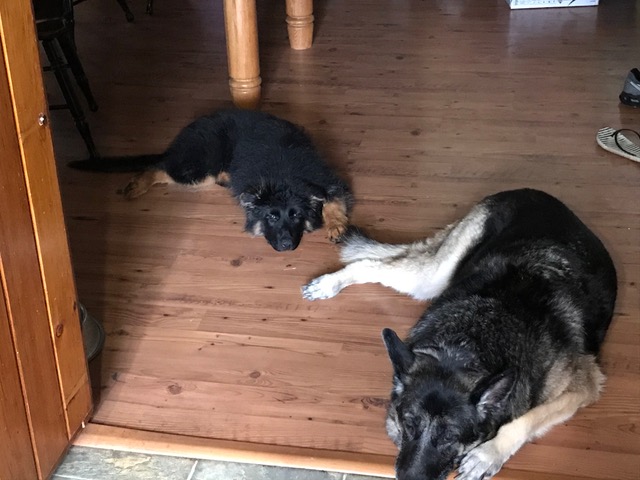 Reggie
Theo wanted to write him a love letter: "Dear Reggie, I love you so much.
I will play with you for your whole life. " Little bro Gus shares the sentiment of course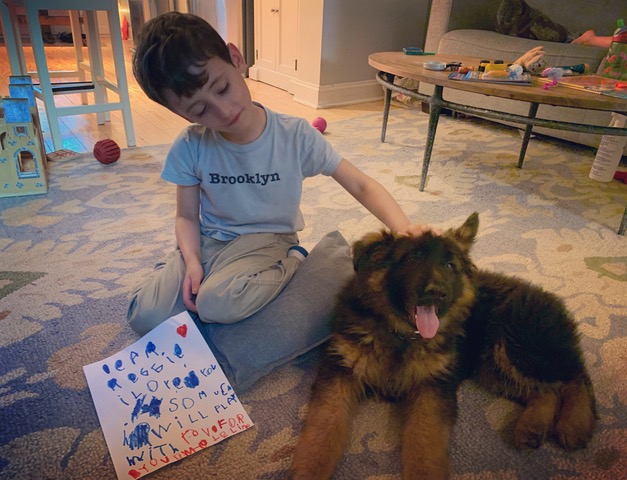 Toby
He's a great dog! He is so much fun and pretty well behaved - getting there!
He's absolutely wonderful with the grandkids.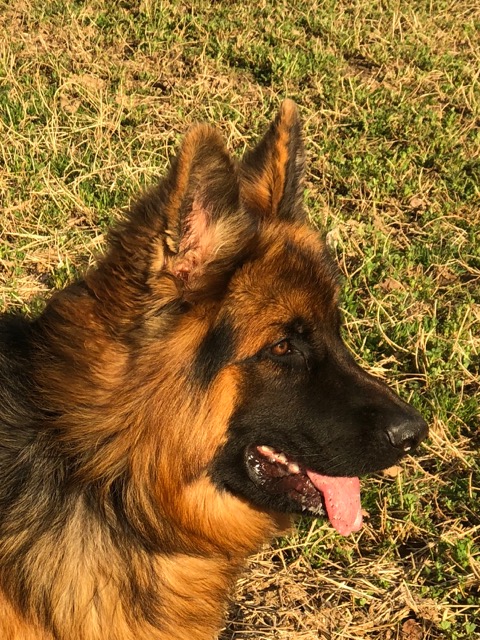 Trinity
I can't tell you enough how much this girl means to us.  She's finally showing us
her goofy puppy side and it makes our cheeks sore from smiling

I ended up going out this morning with her and playing a bit first thing before my
littlest Olivia was up and feeding her in her crate with an hour in a half down time and she ate
it all.  So perfect!  It's a great way to start a day engaging in play with your dog and very therapeutic.
I'm not so sure I'll feel the same come winter lol!

She is now following my other one out too and he actually stayed outside without needing
to come bark at me since they both had their squeaky balls. He's never liked being alone outside
without me for this long so this is a big deal!

It is so nice having a dog come to you already crate trained as well.  So thank you!  Trinity is learning
what she has to do in order for that door to open and she is coming along nicely with that.  She also
finally blessed us with her fetching skills today!  Woohoo!  And she got to play with Bas (the boxer)
for a little bit too.  Oh she was so excited!



Willow
(No Picture Available)

This is Jim Hill we purchased a puppy back in Oct. Just thought you'd like to know Willows (aka Yellow)
doing just great. She's grown so big and has a personality of her own.. I cant tell you how happy we are
to have her become a part of the family. She loves walks in the park. Very smart and was extremely easy to house break.
Thanks
Jim Hill and Family

We could never thank you enough, Mrs Carolyn, for the most beautiful and adoring pup! Hope all is well.